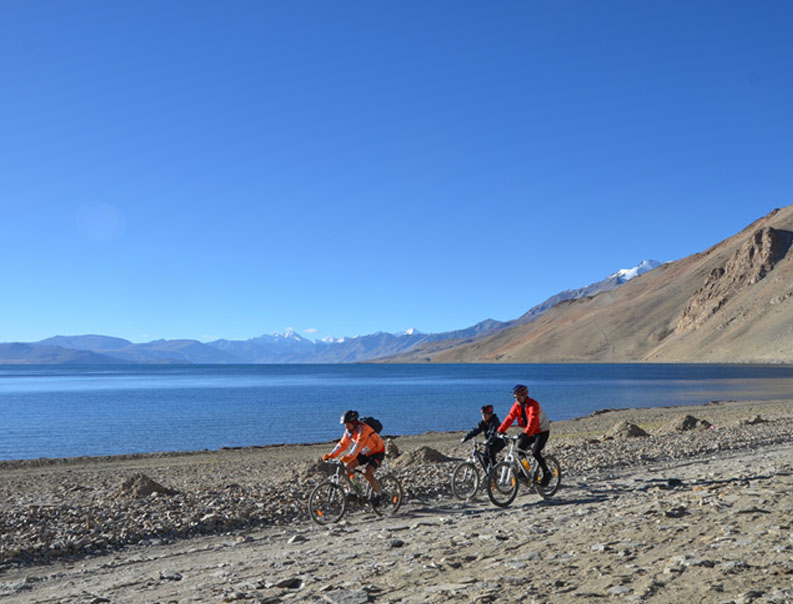 Ladakh Signature Mountain bike Tour
Trekking arrangement:
Horses, horsemen, food, cook, helpers, back up Jeep, dinning tents, kitchen tents, table, stool, sleeping tents, mattresses, Back up jeep etc.
Duration

Category

Group Size

Activity

Peak Point

Small pass of Prinkiti La (3750m)

Best time

Mid June till end of September
Ladakh Mountain Biking
Costs : Rs 42,500/- per pax ( Minimum 4 pax )
Dates :
Departure
01 October, 15 October 2022, 2023, 2024
Costs Includes
Hotels In Leh or Thiksey on MAPAI
Back up Jeep
Permits
Camping on the way with kitchen
Two men tents on cycling days
Guide cum Mechanic
Mountain Bike from Day 02 to Day 07
Cook and a helper on the way
Costs excludes
Any airfare
Tips
Lunch on day 01 and Day 7
GST 5 %
Ladakh Signature Mountain bike Tour
Day 01.Leh/Thiksey
Experience a wonderful flight over the Himalaya. On arrival, you will be receive by Kailash expeditions representative and transfer to hotel in Thiksey After welcome tea and coffee, rest for whole day & and let your body take complete acclimatization. If possible stay entire day at the hotel and let your body acclimatize for the entire 24 hours so that one can enjoy travelling without bearing AMS ( acute mountain sickness ) .
Stay will be optional -either Thiksey and Leh. Overnight Hotel
Day 02 : Leh/ Thiksey
Today we will attend the early morning prayer where 150 monks will be assembled and pray for world peace and do their regular prayer.
After breakfasts Walk the Old town – Guided Heritage tour of old town
One day trail in Ancient Ladakh
In the pages of history, the ancient capital of Leh bookmarks one of the greatest cross-cultural crusades of its time! A bustling trade post on the Silk Route, it gave birth to a trans-Himalayan pedigree, nourished by the valleys of Baltistan and Afghanistan, while dynastic rule trickled in from the highest abyss of the Tibetan Plateau and down the realms of the Mongolian Empire…
We have mapped out a trajectory of hidden trails shadowing the glory of the Silk Road Era and all that it left behind… Seek out timeless stories and let them illustrate history that once existed on a grand scale!
Central Asian Museum
The quiet courtyard beckons history and the fortified structure stores relics from the ever-lasting escapade of traditions that have transpired here over time… Bringing to life the Tibetan, Kashmiri, Baltistani and Ladhaki origins of the land.
La Las Café
An antiquated, mud-brick café, with a history rooted in romanticism! Andre Alexander, a revered historian and traveller built the innate structure for his Tibetan wife, La La and it stands true to the tale of their love, long after they've been gone.
Munshi House:
Explore the endless, prehistoric perspectives that lie within the original residence of the King's tax collector! Proudly known as the Munshi House, its primeval kitchen still stores the original earthen pots and the interior is a profound reflection of Ladakhsvernacular architecture.
Leh Palace
An audacious, architectural figure to which we all look up, the masonry walls of LehPalace have watched over Old Town like a protective parent since the 16th century. Erected without machines or modern engineering, they have forbidden time from diminishing their age-old glory, keeping their perpendicular perfection intact to this very day.
Tsemo Namgyal
The walls of Tsemo, radiate a forgotten light. Fortified in celebration of an ancient victory, yet their presence today is quiet and elusive, that of a humble bystander who retains a distant dignity while forfeiting all the glory.
And Lastly , Food
Experience Authentic Local food at Alchi Kitchen or Central Asain Museum
Day 3 : Thiksey to Himya Village ( 5 hours – 60-70 kms )
Today we start light cycling on Leh-Manali highway. Today's trail is around 60-70 kms of mostly plain ride which encompasses beautiful route along the Indus river. Overnight camp at Himya Village.
Day 4 : Himya Village – Sumdo Village ( 5 hours – 60-70 kms )
After a sumptuous breakfasts we start our cycling till sumdo village which is a Tibetan settlement. The Tibetan people in Sumda is believed to have stayed after there was a division of Nation states.
Day 5 : Sumdo -Tsomoriri Lake. ( 4-5 hours 60 kms )
. After breakfast leave for Tsomoriri Lake (14,000 ft). Tsomoriri Lake is breeding grounds for numerous species of birds and other wildlife , chief among them are the bar headed goose, found in great numbers, crested grebe, the Brahmini duck (ruddy sheldrake) and the brown headed gull, Wild ass , Tibetan mastiff , and many more .The Lake is 8 Kms. Wide and 28 Kms long with colors and shades of nature overwhelming you .Overnight in ten.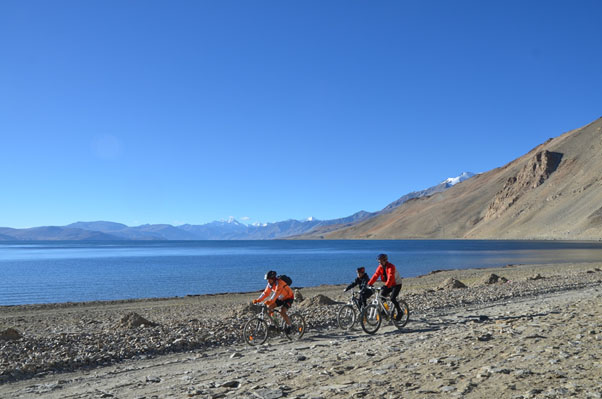 Day 6 : Tsomoriri/ Korzok/ Tsokar ( 4 hours – 50 kms )
After breakfast drive back to Leh visiting Puga which is Sulphur Hot springs . Later we cross polokongkala and reach the beautiful tsokar Lake. Tsokar is home to the largest salt produce in Ladakh region . It is also the breeding ground of Black neck crane and other bird species.Overnight at Tsokar lake .
Day 7 : Tsokar to Rumtse ( 6 hours )
Today we cross the massive Taklang La Pass (17585 ft) second highest motorable road in the world. It will be the longest and toughest ride .Overnight in Rumtse or Gya village
Day 8 : Rumtse to Leh or Thiksey Village I Lesiure ride (3-4 hours )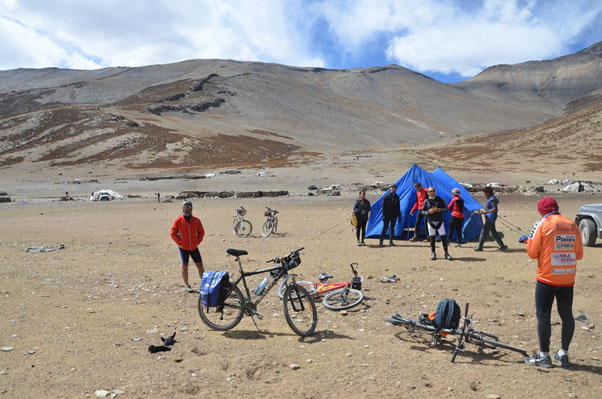 Day 9 : Departure: Leh/ Delhi
After an early breakfast ,depart to airport for onward destination ….fly with sweet memories of Ladakh.
Philosophy
We let you dream, indulge ,discover and explore but with care for nature. You try to make the mountains ,rivers , tress , bushes , bees , butterflies & smile with you while we travel in Nature .Mountain biking is what we think is responsible travel where we contribute to our and nature's health while we conquer the mighty mountains ………
Hotels | Camps | Resorts envisaged
Leh : Hotel Natures Land Ladakh
Pangong : Nature nest camps
Nubra : Natures Nest North luxury camps
Thiksey :Thiksey Monastery
Nubra: Natures Nest North luxury camps
Thiksey :Thiksey Monastery
Sakti : Homestays