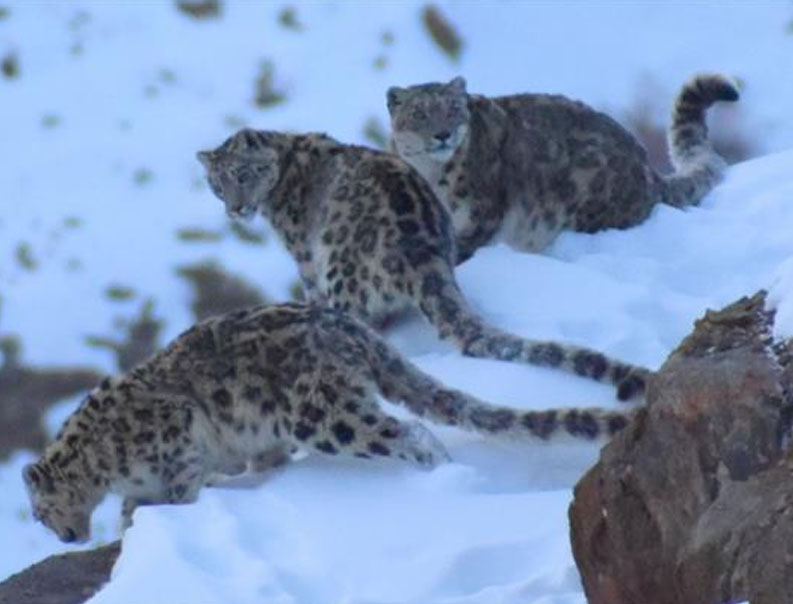 Ladakh Signature Wildlife Tours
Snowleopard and Birding Expeditions
Highlights:
Himalayan farmstay
Snow leopard |Lynx | blue sheep | Himalayn red fox |
Wildlife and birds
Trekking
Yoga & a wellness program

Travel Period: Winters
Months : Febuary | March
Temeperature : Max 12 Degree | Minimum -15 ( averge )

As we walk the world's wildest and rugged terrain yet the most beautiful landscape and the most amazing people in the world. Ladakh's landscape is astonishing and mesmerizing at the same time where winters in Ladakh calls for cold climes, soothing chants resonating from Buddhists monasteries, rare wild mammals, birds, live culture and definitely more travel.
This trail, we take to beautiful unexplored Agham/ Khungru valley which is rich in both florea and fauna making it home to the most elusive and endemic Himalayan red fox, Lynx, blue sheep, wolf and the snow leopard.
The exploration and hikes around the villages of Khema, Khungru, Digar and Tangyar will make you encounter with beautiful mammals and birds.
One morning we will decade to basic yoga and breathing exercise by our certified yoga teacher.
Himalayan food will be another certain experience among many.

Day 1
Arrival at Leh airport. Taking to flight to Leh is an another experience with the view of Himalayan, Karkoram and Gasherbum ranges. Leh is the average altitude of 3500 meters above the sea level. One has to take a complete rest for atleast 24 hours to get acclimatize. Upon arrival we transfer to Hotel. Full day rest. Overnight at Leh.
Day 02: Indus Valley Tour
Shey Palace - Visit to Thikse (Height 3230 M) - Hemis Gompa (Height 3450 M)
You begin the day by visiting Hemis Monastery ,thiksey Monastery and then to SheyPalace. Shey monastery and palace is located 15 kilometers from Leh town on the Leh - Manaliroad. Shey palace and the monastery were built in the 16th Century AD. The monastery enshrines the Du-Khang with an almost 10 meter high copper statue of Lord Buddha.
King Deledan Nagmyal built the Shey palace and Shey Palace boasts of the largest victory stupain Leh, the top of which is made of pure gold. The Shey Palace was the abode of the royal family till 1834 AD when they moved to the Stok palace. The Shey Palace has been taken over by ASI for conservation
Thikse monastery, which is one of the most vibrant and active monasteries in the region. It dates back to the 16th century and is part of the Gelug-pa Sect. It is headed by successive reincarnations of the Khanpo Rimpoche. The monastery is 12 storied and painted in deep shades of red, ochre and white. It has evolved around a central courtyard with buildings surrounding it from three sides. At one extreme lies the main dukhang, which houses numerous racks containing religious texts. Behind the main alter lies a small chamber that contains images of revered deities.
Continue your drive on a well mettled broad road traveling upstream along the Indus River to HEMIS GOMPA, crossing over the Indus at the village of Karu. The most famous of Ladakh's monasteries, Hemis or Changchub, Samstanling(The love palace of the compassionate person), dates back to the 17th century and were built over a period of 40 years (1602 - 1642 A.D.). Today Hemis is well known for its festival or Hemis Tsechu commemorating the birthday of Guru Padmasambhava. In the year of the Monkey (every 12 years) a giant thangka depicting Guru Padmasambhava is unfurled from the terrace draping the five-stories facade. Delicately wrought in pearls and appliqué, it is one of the most famous art treasures of Ladakh. The central courtyard forms the focus for the masked dances held every year in summer. In the dukhang, remnants of the original 17th century murals can be seen. Later return back to Leh.
Day 3 - Leh to Agham Village.
Today we drive to agham village, a tiny quaint village of agham where we will keep the place as base for our exploration.
Agham can be reached via warila but due to snow it will keep Khardongla pass ( world highest motorable road )
We will reach and un-settle for further trek and expeditions.
Agham has the peripheral villages like Digar, Tangyar, Khema and Khungru with all villages have rich wildlife species like snowleopard, Lynx and urial. Besides the place have lots of bird species
Overnight at Agham
Day 4 - Tangyar Phu
Trek / explore Tangyar Phu and surrounding valleys. Overnight stay at Agham
Day 5 - Tangyar Phu
Trek / explore Tangyar Phu and surrounding valleys. Overnight stay at Agham other place depending on the movement of SnowLeopard
Day 6 - Digar & Digar phu
Day 7 - Khema/ khungri village
Trek / explore Khema/ khungri and surrounding valleys. Overnight stay at Agham / other place depending on the movement of SnowLeopard.
Day 8 -
Trek / explore Khema/ khungri and surrounding valleys
Today we leave for Leh
Day 9
Drop to airport.
Here are the costs and details :
Number of Cars
Number of person
Costs per person
GST 5%
Total in INR GST inclusive
01 Car
02 pax
73000
3650
76650
02 Cars
04 pax
68000
3400
71400
02 Cars
06 pax
55916
2795
58712
03 Cars
08 pax
56037
2801
58839
03 Cars
10 pax
49577
2478
52056
04 Cars
12 pax
51850
2592
54442
Single room supplement Rs 25000/-
Hotels
Hotel The Grand Dragon Ladakh on 3 nights while in leh on MAPAI
Agham valley farmstays for the expeditions from Day 03 till Day 07 on full board
Costs Includes :
Accommodation on half board at " A " class Heated Hotel
Full board from Day 03 till day 09 at Agham
All sightseeing and transfers by Heated Innova | Aria or similar
Welcome drinks on arrival with Traditional scarf | Hotel Ladakhi Tea
Expedition guide
Spotting guide
Environment fee
Wild life fee
Homestays when needed.
Costs Excludes :
Sleeping bag
Personal gears (Photography equipment like spotting scope, camera , binoculars)
Jackets , Inners
Tips , personal drinks
Anything which is not mentioned in inclusion
Insurances if any...
Note : All gears are avialable at per day rent basis.