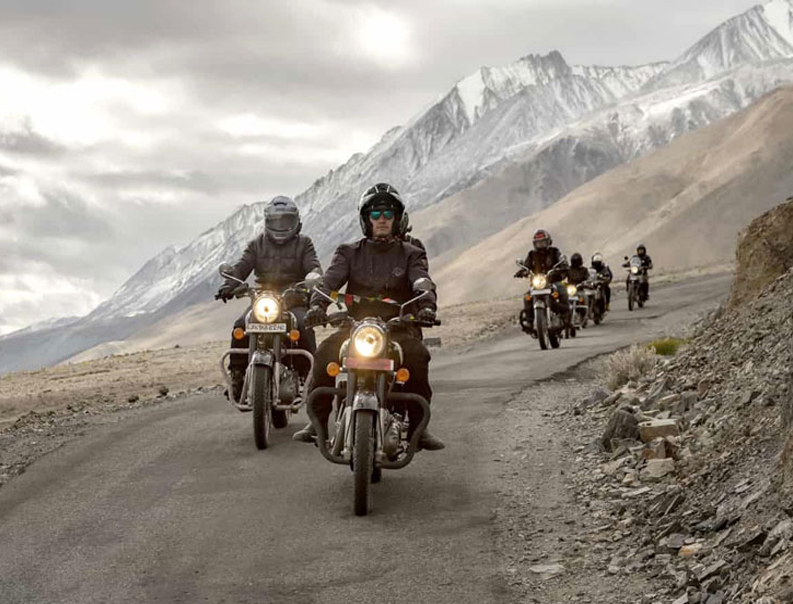 Ladakh Extensive Road Journeys
Duration :(12 Nights 13 Days)
Routing : Leh-Alchi — Lamayuru — Khardongla — Diskit (Nubra Valley) — Hunder — Shayok — Pangong — Hanle — Tsomoriri —pm Sakti — Matho — Leh
Highlights:
● Customised journeys/individualized itineraries.
● Monastic stay at Thiksey Monastery with a private audience with Geshes ( Scholar Doctorate monk)
● Breathtaking landscapes of the Moonland (Lamayuru known for its otherworldly moon-like topography).
● Three turquoise-azure salt lakes of Pangong, Tsomoriri and Tsokar (breeding grounds of rare birds .
● Boutique Hotels/Resorts in Leh.
● Resort indulgence in Nubra.
● Glamping/Camping near Pangong lake.
● Luxury farm-stay in Sakti Village.
● Ancient monasteries (perched on mountain tops with their resonating hymns and gongs of monastic rituals).
● The assorted tribal cultures of Dha and Hanu (the Brokpas), Changthang (the Changpas) and Kargil (the Baltis).
● Mystical valley of Nubra (a lost fragment of the ancient silk-route).
● The villages bordering Pakistan and China.
● Yoga sessions at picturesque locations.
● Nature hikes, village walks and wildlife galore.
● White-water rafting in the Indus and much more. .
Day 01: Arrival at Leh and transfer to Alchi
Experience a wonderful flight over the snow-clad Himalayas. The most amazing flight, where you transit from the lush-green plains of India to the rugged and rusty terrains of Ladakh Range, the south-eastern extension of Karakoram Range, south-central Asia, Zanskar range and view of K-2 ranges along with Gasherbrum ranges. The range extends southeastward for some 230 miles (370 km) from the mouth of the Shayok river in Gilgit-Baltistan (a part of sector of the Kashmir region administered by Pakistan), through the Union Territory of Ladakh (a portion of Kashmir administered by India), to the border with the Tibet Autonomous Region of China. With a crest line of about 20,000 feet (6,100 metres), the range parallels the northeast bank of the Indus River known as Singge-Khabhabs which literally means 'originating from lion's mouth.'
On arrival, you will be received by a representative of Kailash Expeditions and transferred to your hotel in Alchi which is 80 kms from the airport in west Ladakh, which is being Lower in altitude helps one to acclimatise better.
After a welcome tea/coffee, rest for the whole day and let your body be completely acclimatised. If possible, stay the entire day at the hotel and let your body acclimatize thoroughly so that you can enjoy travelling without any symptoms of AMS (Acute Mountain Sickness).
Day 02: Shyam Valley Exploration (Experience 200 kms of best drive in the world).
Alchi — Lamayuru — Uleytokpo — Leh enroute Basgo Fort (UNESCO World Heritage Site)
After a fulfilling breakfast you will visit the Alchi Monastery which is 1000 years old, 11 century monastic complex, built by Lotsawa Monastery complex which paintngs and murals dates back to the same century, Alchi village, which is about 70 km to the west of Leh district and is located on the banks of the River Indus. Alchi has an old world charm to it with cobblestone paths surrounded by apricot trees on both sides leading you to its ultimate treasure, the Alchi Gompa. Alchi Gompa also known as Alchi Monastery was built around the first century A.D. by the great translator Rinchhen Zangpo. One can clearly observe the influence of Kashmiri art and craft in the sculptures and wood carvings at Alchi Monastery as the artisans working at the monastery were Kashmiris.
later to Lamayuru Monastery, located 120 kms away from Leh town and continue further to Lamayuru village to experience the gnarly moon-like terrain of Lamayuru also known as the Moonland. Here is a place perfect for clicking pictures. A must visit here is the Lamayuru Monastery. Enroute Leh you will stop by Gurudwara Pathar Sahib, magical Magnetic Hill and the Sangam (confluence) of Zanskar and Indus river. One can also experience white-water river-rafting in the Zanskar river.
In Alchi, one can visit the Sumtsek Temple, Vairocana Temple, Lotsawa Temple, Manjushree Temple, Kangyur Temple with Stupas, Monk ashramas, etc. There are five shrines in the monastery complex which have some well-preserved old wall paintings. One of its walls features thousands of miniature sized pictures of the Buddha. It is a perfect place to relax and experience the quintessential Buddhist monastery.
Overnight at the hotel in Lamayuru.
Day 03 : Da-Hanu (The last Aryan's abode– Tribal circuit)
The villages of Dha and Hanu are amongst the only few villages that are home to the Drogpa (Brokpa) tribe of Leh. The tribe is speculated to be the Last lineage of Alexanders' last army. These villages are located 163 km northwest of Leh in the Kargil region. The tribe is different from the other tribes found in the rest of the Ladakh region in terms of features and language. Dah and Hanu villages are a must visit for those who are interested in cultural diversity.
The Brokpa tribes are known for their distinct ornaments and flowery- headgears. They are culturally, racially and linguistically different from the rest and are said to be the only living descendants of the original Aryan (Indo-European) race.
Stay overnight in a camp.
Day 04 : Da-Hanu to Kargil
The journey continues from the villages of Darchik, Gharkhon and Bema to Kargil via Sanjak and Chiktan. These villages reflect the rich-ancient past of a region burgeoning with trade and commerce bringing together people from different cultures and traditions, and their heritage thriving peacefully in a cultural amalgamation. A must visit for people interested to see societies at cultural crossroads.
Late afternoon, one can even visit the second coldest place on earth which is Drass and check the War memorial of 1999, Indo-Kargil war zone, Tiger Hill and Tololing.
Overnight at Kargil.
Day 05 : Kargil to Leh
Today post-breakfast, you will drive till the Kartse Village in Suru Valley and visit the ancient Giant Buddha statue built in Kanishka's time. Then drive back to Leh city via NH1 (Leh Srinagar highway). You may also visit the World Heritage Site of Basgo fort enroute.
Overnight at Leh.
Day 06: Leh — Nubra Valley via Khardongla (125km)
After an early breakfast, drive to the picturesque valley of Nubra (also known as Ldumra) via Khardungla Pass (highest motorable road in the world at about 18,380 ft). The journey traverses zig-zag roads surrounded by rugged mountainous terrain and wild lavender which grows mostly in the month of July-August. On arrival, check-in at Nature's Nest North camp. By afternoon, enjoy the splendid view of sand dunes and get a ride on the double-humped Bactrian camels, which will teleport you to the old Silk-route times.
Overnight at camp/hotel.
Day 07 : Nubra Valley Turtuk / Thang Village excursion – The Last point on Indian territory
Early morning drive to Turtuk village which is about 115 kms from Nubra valley and it takes nearly 3 to 4 hours to reach there. Turtuk is a small village hemmed in by the Shyok River and the high peaks of the Karakoram mountain range and a population of approximately 4000 people. Villagers are Noorbakshia Muslims, a Sufi sect of Islam, who speak Balti. It is situated at the border area of Pakistan and is surrounded by rocky terrain. Turtuk's relatively lower elevation also allows the residents to plant buckwheat which is a staple food. They grow apricots and walnuts in abundance. The apricot orchards, Noorbakshia mosques, stone homes and irrigation channels make it a place fit for creating memories and telling stories.
You will walk around and explore village life in Turtuk and meet the residents. After the exploration you will be driven back to Hunder village.
Overnight at camp/hotel.
Day 08 : Disket — Hunder — Pangong Lake (via Shayok)
Today, after getting up early in the morning, you will visit Diskit monastery and have a wonderful view of Nubra valley. Later, you will head towards Pangong Lake via Shayok.
Enjoy the enthralling turquoise-colored panoramic lake and the magnificent mountains in the backdrop which will leave you awestruck.
Overnight at Camp.
Day 09 : Pangong Lake — Hanle via Chushul — Tsaga la — Loma band.
Hanle in the Changthang region of Ladakh is one of the most scenic, serene, calm places in India. Hanle, like other places in Ladakh, has Hanle monastery offering some great panoramic bird-eye view of the whole village that is home to about 1000 people. Hanle monastery was built in the 17th century by the Drukpa lineage of the Kagyu school of Tibetan Buddhism. This monastery is home to about 60 monks. The main monastery, one of the largest and best known amongst Ladakh's monasteries, was built under the patronage of the King Singey Namgyal of the Namgyal dynasty. Anyone looking for a spiritually uplifting experience must visit this monastery.
Hanle also bewitches you with its starry clear skies with the milky-way in clear view. Hence, the presence of the Indian astronomical observatory is just apt as it is located at a higher elevation and therefore is the world's highest observatory at a staggering height of 4500 mtrs.
Overnight in guest house.
Day 10 : Hanle — Tsomoriri Lake.
After breakfast, leave for Tsomoriri Lake (14,000 ft), which is a one way drive lasting 3 - 4 hours. On the way, visit Nyoma-Mahe bridge. Tsomoriri Lake is a brackish lake surrounded by green landscape on one side and brown-rugged typical Ladakhi terrain at some places. It is an important breeding ground for numerous species of birds and other wildlife, chief among them are the Bar-headed goose (found in great numbers), Crested grebe, the Brahminy duck (Ruddy shelduck) and the Brown-headed gull, Wild-ass (kiang), Tibetan mastiff and many more. Tsomoriri is 8 kilometers wide and 28 kilometers long with colors and shades of nature overwhelming you.
Overnight in tents.
Day 11 : Tsomoriri — Korzok — Tsokar — TaglangLha — Sakti
After breakfast, drive back to Leh visiting Puga Sulphur Minen and Tsokar Lake enroute. On your way you will cross the Taglang Lha Pass (17,585 ft.) which is the second highest motorable road in the world.
Upon arrival at Sakti village (locally written as Serthi, golden throne), you will visit the ancient cave monastery of Takthok. Takthok monastery follows the Nyingma tradition and has many sculptures and paintings of Guru Padmasambhava (Guru Rincpochhe). The ancient cave monastery has stories linked to Guru Padmasambhava which makes the visit interesting.
Overnight at Sakti.
Day 12 : Indus Valley Tour — Heritage Walk — Market and a monastic learning and discussion/debate on buddhism at thickset learning centre
The Monastic stay will be at Thiksey Monastery. Those who do not wish to stay at monastery will be given basic meditation course at Thiksey Learning centre.
Shey Palace — Visit to Thiksey (Height 3,230 metres) — Hemis Gompa (Height 3,450 metres)


You begin the day by visiting Hemis Monastery, Thiksey Monastery and then Shey Palace. Shey Monastery and palace is located 15 kilometers from Leh town on the Leh - Manali road. Shey palace and the monastery were built in the 16th Century A.D. The monastery enshrines the Du-Khang with an almost 10 meter high spellbinding copper statue of Lord Buddha. King Deldan Nagmyal built the Shey palace and Shey palace boasts of the largest victory stupa (Namgyal Chhorten) in Leh, the top of which is made of pure gold. The Shey palace was the abode of the royal family till 1834 A.D. after which they moved to the Stok palace. The Shey Palace has been taken over by the Archaeological Survey of India for conservation.

Thiksey monastery, which is one of the most vibrant and active monasteries in the region dates back to the 16th century and is part of the Gelug-pa sect. It is headed by successive reincarnations of the Khanpo Rimpoche. The monastery is 12 stories high and painted in deep shades of red, ochre and white. It has evolved around a central courtyard with buildings surrounding it from three sides. At one extreme lies the main dukhang, which houses numerous racks containing religious texts. Behind the main altar lies a small chamber that contains images of revered deities.

Here, you will spend a good amount of time, which will be followed by Buddhists teaching by a great Buddhist doctor. One can have discussions and deliberations on various discourses of life.

After this, you will continue your drive on a well-mettled broad road traveling upstream along the Indus river to Hemis Gompa, crossing over the Indus at the village of Kharu. The most famous of Ladakh's monasteries, Hemis or Changchub Samstanling dates back to the 17th century and was built over a period of 40 years (1602 - 1642 A.D.). Today Hemis is well known for its festival called Hemis Tsechu commemorating the birthday of Guru Padmasambhava. In the year of the Monkey (every 12 years) a giant thangka depicting Guru Padmasambhava is unfurled from the terrace draping the five-storey facade. Delicately wrought in pearls and appliqué, it is one of the most famous art treasures of Ladakh. The central courtyard forms the focus for the masked dances held every year in summer. In the dukhang, remnants of the original 17th century murals can be seen.

En-route visit Stok Palace and Museum. Stok Palace is the less majestic yet more famous of the palaces in Ladakh. At some 14 km from Leh, it was the once the summer palace of Ladakh's royal family. Built over 200 years ago, Stok Palace houses some rare ancient paintings of Shakyamuni, Avalokiteshwara, Vajrapani, Tara, etc. The palace museum also houses some 100 plus volumes of Buddhist teachings and a giant statue of Avalokiteshwara. Some interesting artifacts like the jewel-studded crown of Ladakh's erstwhile queen are also housed in the palace. The palace also has a cafe on its terrace and some rooms open for visitors. Prior booking has to be made in case you wish to stay here. Stok Palace is a major pit-stop if you are eager to hit some impressive treks in the Himalayas around.
Day 13 : Free Day and a short walk around the old city of Ladakh
Walk the Old town – Guided Heritage tour of old town

One day trail in Ancient Ladakh

In the pages of history, the ancient capital of Leh, bookmarks one of the greatest cross-cultural crusades of its time! A bustling trade post on the Silk Route, it gave birth to a trans-Himalayan pedigree, nourished by the valleys of Baltistan and Afghanistan, while dynastic rule trickled in from the highest abyss of the Tibetan Plateau and down the realms of the Mongolian Empire…
We have mapped out a trajectory of hidden trails shadowing the glory of the Silk Road Era and all that it left behind… Seek out timeless stories and let them illustrate history that once existed on a grand scale!
Central Asian Museum
The quiet courtyard beckons history and the fortified structure stores relics from the ever-lasting escapade of traditions that have transpired here over time… Bringing to life the Tibetan, Kashmiri, Baltistani and Ladhaki origins of the land.

La Las Café
An antiquated, mud-brick café, with a history rooted in romanticism! Andre Alexander, a revered historian and traveller built the innate structure for his Tibetan wife, La-La and it stands true to the tale of their love, long after they've been gone.

Munshi House:,br> Explore the endless, prehistoric perspectives that lie within the original residence of the King's tax collector! Proudly known as the Munshi House, its primeval kitchen still stores the original earthen pots and the interior is a profound reflection of Ladakh's vernacular architecture.

Leh Palace
An audacious, architectural figure to which we all look up, the masonry walls of Leh Palace have watched over Old Town like a protective parent since the 16th century.
Erected without machines or modern engineering, they have forbidden time from diminishing their age-old glory, keeping their perpendicular perfection intact to this very day.

rTsemo Namgyal<
The walls of rTsemo, radiate a forgotten light. Fortified in celebration of an ancient victory, yet their presence today is quiet and elusive, that of a humble bystander who retains a distant dignity while forfeiting all the glory.

And Lastly,<
Experience Authentic Local food at Alchi Kitchen or Central Asian Museum .
Day 14: Flight to Delhi
Early morning transfer to the Kushok Bakula Airport and fly towards the next destination. Leave footprints with take sweet memories of Ladakh!
Hotels 03 star
Leh : Hotel Royal Ladakh | The Holiday Ladakh | Nature's land Ladakh
Lamayuru : The Grand Moonland
Dah Hanu : Aryan valley camps
Kargil : Hotel Barula
Nubra : Chamba camps
Pangong : Himalayan wooden Cottage
Tsomoriri : Tsomoriri Inn
Sakti : Fana Resorts – Deluxe rooms
Hotels 04 star
Leh : Welcome Heritage Lharisa Resorts
Lamayuru : The Grand Moonland
Dah Hanu : Aryan valley camps
Kargil : Hotel The Kargil
Nubra : HUnder resorts
Pangong : Nature's nest camps
Tsomoriri : Tsomoriri Camps and resorts
Sakti : Fana Resorts – Deluxe rooms
Hotels 05 star
Leh : Hotel The Grand Dragon Ladakh | The Chulli Bagh by Stok Heritage Palalce
Lamayuru : Apricot Tree
Dah Hanu : Aryan valley camps
Kargil : Hotel The Kargil
Nubra : Stone hedge / lchang Nang Retreat
Pangong : Nature's nest camps
Tsomoriri : Rupshow
Sakti : Fana Resorts and Farmstay – Superior rooms
Package Cost Includes :
Ø Experiential Accommodations
Ø Breakfasts and Dinner
Ø Ladakhi Lunch on the day for guided Heritage Walk
Ø One day Yoga session by certified Yoga Trainer
Ø Tibetan Buddhists talks and meditation at the Monastery
Ø Luxury Farm-stays at Sakti in all categories – followed by Village walks
Ø All Sightseeing and transfers by NAC Innova
Ø Ladakh Ecological contribution
Ø White Water River rafting followed by One River side Picnic Lunch on Day 02 or Last day.
Ø GST 5%

Package Cost Excludes :
Ø Lunch
Ø Airfare
Ø Travel Insurance if any
Ø Personal drinks